The first time cheese fondue came to my knowledge was from a Japanese drama - Over Time. The second time I saw it was also from a drama, but a Hong Kong's one - to Catch the Uncatchable (栋笃神探).

Some facts about Fondue:
Fondue refers to several French Swiss communal dishes shared at the table in an earthenware pot ("caquelon") over a small burner ("rechaud"). The term "fondue" comes from the French "fondre" ("to melt"), referring to the fact that the contents of the pot are kept in a liquid state so that diners can use forks to dip into the sauce. The sauce is usually warmed either by a separate burner containing an alcohol-based fuel or simply by tealights. Though cheese fondues are the best known kind, there are several other possibilities for the contents of the pot and what is used for dipping.

As with other communal dishes, fondue has etiquette standards ranging from practical to amusing. Some people consider it rude to allow one's lips or tongue to touch the fondue fork, and with meat fondues one should use a dinner fork to remove the meat from the dipping utensil. The "no double-dipping" rule applies here as well, once a taste has been taken of a dipped morsel it should not be returned to the pot. If the bread or fruit is lost in the cheese or chocolate, it is tradition for that person to buy a round of drinks or to be punished in another way.
(Extracted from http://en.wikipedia.org/wiki/Fondue)

And about one year ago, I came to know from newspaper advertisements that there's a place in Sri Hartamas which offers cheese fondue. Eager to indulge myself in this special dish, I brought my family to this restaurant during the past Raya holiday.

The Cheese Fondue



A closer view of the pot of cheese.



The vegetable platter (Cauliflower, Broccoli, carrot slices, celery slices and mashed potatoes).



Biscuits and crackers.



The set of garlic cheese fondue and vegetable platter.



The chicken fillets with some vegetables.



The biscuits and crackers.



The original cheese fondue and chicken fillet platter.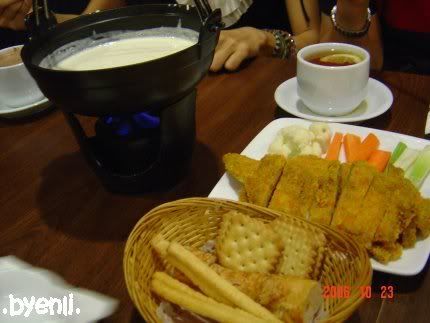 The fork to dip your servings into the chocolate fondue. It's a smaller and shorter than the one for cheese fondue.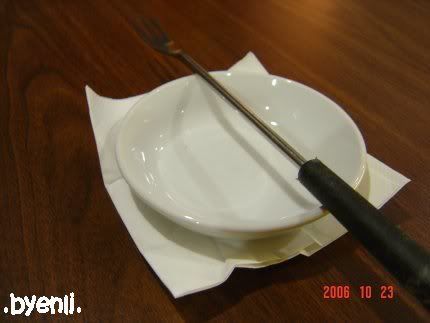 The plain chocolate fondue.



The small fruits platter.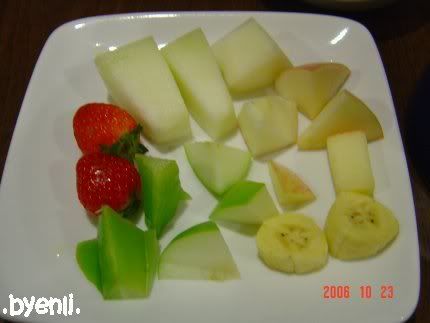 The chocolate powder, crushed peanuts and grated coconut served together with your chocolate dip.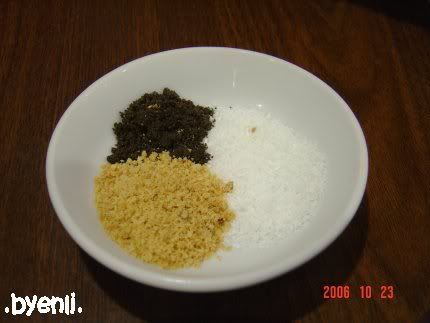 The Chocolate Fondue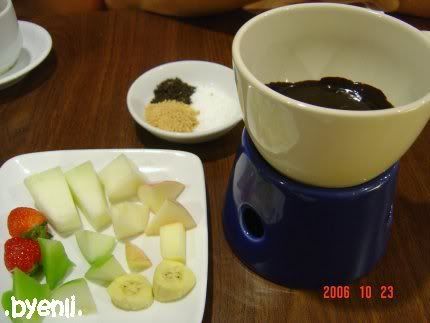 Overall, I think chocolate fondue tasted nicer than the cheese fondue as I personally thought that the cheese fondues were too salty to my preference. In addition, I actually could not differentiate between the Garlic Cheese Fondue and the Original Cheese Fondue. And these views were shared unanimously amongst my family members. Anyway, there are still a lot of people out there which love it very much, so take my opinions at your own risk! :P

The cheese fondue in Fondue House comes in 6 types of flavours :~
i) Original Cheese Fondue
ii) Garlic Cheese Fondue
iii) Cream Cheese & Crab Fondue
iv) Bacon Cheese Fondue
v) Creamy Mushroom Fondue
vi) Creamy Veggie Fondue

And there are different sets of platter to go with the cheese fondue (Price ranged from RM 29.90 to 49.90) :~
i) Chicken Fillet (breaded, crispy and golden)
ii) Lamb Cubes
iii) Sirloin Beef Cubes
iv) Seafood (fish fillet, shrimp and crab sticks)
v) Jumbo Mix (a mixture of the above items)

Vegetables (carrot slices, celery slices and broccoli) and a basket of bread and crackers come together with those set meals. A-la-carte style is available for your choice as well.

For the dessert (The chocolate fondue) :~
i) Plain Chocolate Fondue
ii) Orange-Flavoured Chocolate Fondue
iii) Peanut Butter Chocolate Fondue
iv) Whiskey Chocolate Fondue

To go with the chocolate fondue, there are fruits and strawberries available in the menu. There are other snacks available as well, such as pandan chicken (5 pieces for RM 9.90), curry samosas(6 pieces for RM 4.90), spring rolls (6 pieces for RM 4.90), calamari (RM 10.90) and various kinds of cakes. For beverages, there are teas, coffees(hot,blended or iced), fruit smoothies, fruit juices, soda drinks(pasion fruit soda & pink guava soda) and mocktails.

Now, for the most important piece of fact :~
Fondue House
5, Plaza Prisma Ville,
Jalan 26A/70A,
Desa Sri Hartamas.
Tel: 03-62033346
Business Hours: Daily (11am-11pm).

I was told that it's better that you reserve your seat before you go as the place will easily get crowded especially during peak hours (though the place was not crowded when I went, it was a dinner time, but no harm making a phone call in advance, right? :p).

Additional bit of information is available from http://kuali.com/news/story.asp?file=/2005/12/1/eatingout/12627429&sec=eatingout.

Cheezeeee~~ Enjoy!